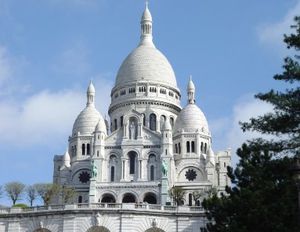 I am an exception in the Parisian landscape and considered the last village of Paris.
I reserve corners especially charming to tourists who can venture into the narrow streets.
At the top of the Butte, there is a major religious building in Paris.
Second monument of France's most visited after the Notre-Dame de Paris, I offer a unique view of the city. Not to be missed under any circumstances!
Need a rest ? Have a drink Place du Tertre in a traditional French Café and dream while an artist make your portrait : A wonderful and magic souvenir from France !
So Who am I ?